---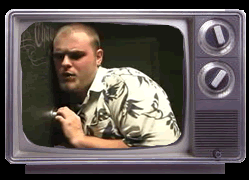 What's the haps, Paps?
NEWS
February 15th, 2008
So this site hasn't been updated for almost five years. Why? Well, I hate to break this to the internet world; Phil died on August 23rd 2008 as a result of a horriable fly fishing accident. As of this time, authorities have no leads to go on why Phil was fucking fly fishing in the first place. Phil fought to live for many days, slipping in and out of consciousness, and during his lucid states would speak of "douchebag lickers", "those damn commies", and most frequently "yogurt with fruit on the fucking bottom!". He finally passed at 4:35am with half a bottle of Bud Light in his left hand and a military rapier in his right (no one is sure how he got this). His body was cremated and as per his final wishes, scattered in various pepper grinders throughout the world's most premier restaurants.
So yeah, Phil is alive, but sleeping. I meanwhile get to update his site and bring it up to current web standards. You heard that right, Phil is sleeping while I am working... that lazy fuck. So if any off you rascals out there need webdesign you can always hit me up! comaLABS.
---
September 17, 2004
We're rerunning the entire first season!!!
We'll be making some changes to the site soon. Well, basically, we're going to become two websites, www.philtelevision.com and www.philtv.net. The dot net site will pretty much be exclusivly for the Bulletin Board and our E-commerce (when that happens, soon). Dot com will be for everything else. So, if you're used to typing in one or the other or have them bookmarked, they'll be changing soon. Don't worry, we won't let you get lost in the shuffle. You'll always be able to easily find the latest episode or whatever. Oh, by the way, we tried to get www.philtv.com, but we couldn't. Some douche is squatting on it. Fuck him. We're not paying him whatever he wants for it. Even if he only wants a dollar over normal domain registration cost. Fuckin' dickweed squatter.
---
August 10, 2004
For the love of Chimps, you mean its been since February that this section has been updated? Holy shit-shock!!! Oh, well. We're very busy people. Hey, we added a links section to the site. We'll be adding our favorite sites there as we remember them or as they contact us and remind us.
Obviously, we put Episode Tweleve up a couple Sundays ago. Wow, was that a fun shoot! We had the best time we probably ever had shooting a show, thanks to actors Joe Abramo and James 'Skeik' Helms. We can't wait to have them back again.
Well, that'll pretty much wrap it up for Season One. We had a blast and hope to start shooting Season Two this Fall. There will be an Episode Thirteen for Season One, but much like The Simpson's Halloween specials, it will contain absolutly no continuity towards the season as a whole. It will be our hommage to a popular horror film and shot in 'our style', of course. It should be a lot of fun. Stay Tuned!!!
---
February 28, 2004
Holy crap! The south got pounded with a shit-ton of snow the last few days! We know that folks from the north are thinking, "Man, that ain't shit!" Well, fuck you yankee! Just kidding. But, this is the most snow Charlotte, NC has gotten in years and it's prevented us from getting Episode Five done in time for it's scheduled air date of this Sunday, February 29. So, sorry folks! We'll get it done and up as soon as possible. Stay tuned!
---
February 12, 2004
Episode Four - "Kill Phil" will go live this Sunday. Written and Directed by Robby McGalliard, it's tone of dark and twisted humor points Phil Television into a direction most will not want us to turn back from. This episode features the television debut of Adam Boone as the station's newest employee. His character will certainly creep you out.
---
January 18, 2004
Episode Two went live at 8:00pm EST Sunday. We shot Episode Five this last Saturday. Stay tuned.
---
January 10, 2004
We'd like to thank everyone that has watched "The Pilot" and Episode One. We've gotten a lot of great compliments and are very happy to hear them. We just shot Episode Four last Saturday, written and directed by Robby McGalliard, who's band The Graveyard Boulevard was featured during the dream sequence in Episode One.
December 23, 2003
"The Pilot" is up. Watch it. Review it on the Bulletin Board (Ed Note: or not since it's busted). Tell your friends. Whatever. Just fucking watch it! We've all been waiting for this for a long time and are very excited, so please enjoy our work knowing that Episode One is coming soon. Greg Bryant was so very cool enough to let us use his song "Who Gives a Shit?" for the closing credits. This song will be featured as the closing credit song for every episode of Phil Television, until he decides that we should start paying him for it. Heh heh. Just kidding. You can check out his stuff at: www.pitchforkreview.com.
If you'd like to hear the full version of "Who Gives a Shit?", you can listen to it at Artist Launch or stream it from here. We look forward to using more of Greg's songs, in fact, we're using another in Episode One. Stay tuned!!!
---
December 02, 2003
Download and install the very cool Phil Television desktop wallpaper...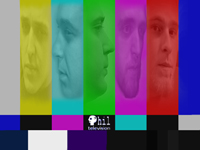 It doubles as a monitor calibration tool (if you know what you're doing) and is in the most popular 1024x768 resolution! For those that don't know how to install, just click on the image above. Once the image loads into your browser, right-click and select "Set as background". Windows will do the rest.
In the meantime, stay tuned. "The Pilot" will be up before Christmas!
---
November 12, 2003
Woo hoo! "The Pilot" is done! It will be uploaded and ready to view in the very near future. We put a preview in the when section of the site. We really do want to make the premiere a special occasion, so it will have to wait just a little while longer. But, if you send us an email, you'll be among the first to know when it is available. Phil has started editing Two and Three and should finish sometime next week. So be patient, please. Its coming very soon, folks! We're getting excited!
---
November 06, 2003
Well, a lot has been happening since the last news update. We decided that we don't need John Frasier, but "The Pilot" is still not finished. However, Episode One is done. That's right, folks. Episode One has been edited. But, (oh fuck there's always a but) it will not air until after "The Pilot" is done. Sorry, but that's just how it works. The audio on Episode One has to be mastered first, anyway. It sounds like shit, as it is, because we don't have a soundman when we shoot on location. So, this extra step is neccesary. And since everyone who works on Phil Television is doing this in their spare time, it does tend to take a bit longer. If you have an extra $500,000 laying around, we'll do this shit 80 hours a week for the next year. Please, be patient. Oh, and we'll try to update the news a little more often, as well.
August 18, 2003
We shot Episode Two this last weekend, as planned. Phil is going to have to review the tapes to see if there's anything else we need to get to make it complete. We also finished the opening sequence shots we needed for Episode One. Now, as soon as we can get John Fraser to shoot the opening sequence for "The Pilot", all three will be edited and put online for everyone to see. Maybe we should make Fraser's email addy public, for encouragement purposes. Hmm... Let's not resort to that just yet.
---
August 12, 2003
Phil actually remembered to upload the new site!
---
August 08, 2003
Phil actually took the time to design the site!
---
August 07, 2003
Episode Two will be shot in the very near future. We're planning on shooting the weekend of August 16th, but we'll just have to wait and see if we're all able to make it. We decided to bump what we originally thought would be Episode Two to a later episode, to move this concept ahead in line. We felt that it would establish the mood and characters much better.
---
July 19, 2003
Currently, we have shot all but one two-minute scene of "The Pilot". It will be edited as soon as that scene is shot. Actor John Fraser's schedule has conflicted with the production. His scene and character are vital for the initial set-up of the entire Phil Television scenario.
Episode One has been shot, with the exception of a few touch-up shots we want to get. Again, it will be edited as soon as we get the crucial opening sequences done.